Every dollar we raise goes to supporting our pro-shooting lobbying and election campaigns, which aim to make sure elected politicians look after what you love to do.  
Your donation will help us support those who support shooting and end the careers of others who don't.
There are three different ways you can donate!
2.  Donate using Paypal
Or if you have a Paypal account, donate using their facility now.  Click here to go to the Paypal gateway to make a one-off or set up a recurring (monthly) donation.
3.  Donate via direct debit
Or direct debit to our account at:  NAB – BSB: 083 152 Acc: 55043 4866 in the name of Combined Firearms Council of Victoria
4.  Donate by shopping at Ritchies IGA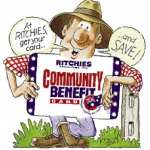 Just go to the service counter at your local Ritchies IGA ask for a Community Benefits card and quote this number to nominate the CFCV as your community organisation – 91698. Then go shopping and everytime you show your card at the checkout, Ritchies will donate part of what you spend to the CFCV!
This only applies to Ritchies IGAs – not other IGAs!  Click here to see where your nearest one is.